Gantry Crane
Gantry cranes can work in various conditions, such as workshop, material stocks, cement plant, granite industry, port, the freight yard, factory, freight yard, warehouse and other places to load and unload materials.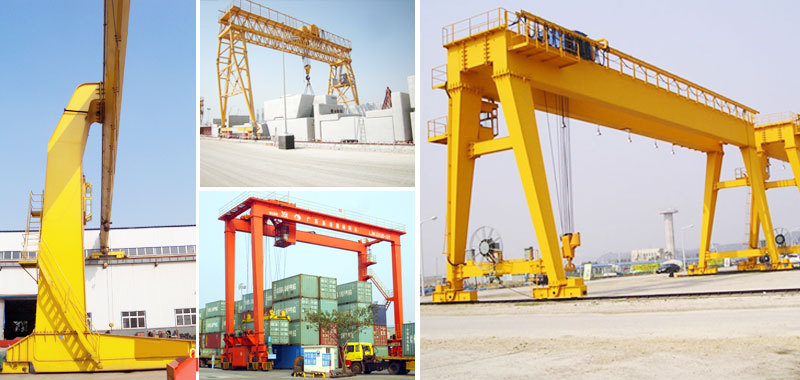 Gantry cranes are designed similar to overhead cranes but have their own legs running on a floor mounted runway, mostly outside applications. Technical needs to be considered the environmental impact – Rain-Snow and Wind-Storm or in GCC sand storms. Being professional gantry crane manufacturers, we supply tailor made crane systems as well as standard industrial cranes
Product structure
Wheels:
The wheels of crane crab,main beam and end carriage are produced in our special vacuum casting workshop(No sand inclusion technique) which makes our wheels moreelastic and outer surface hand-wearing and durable.
Whinch trave:
The trolley are assembled with motor, reducer brake, trolley faram, drum hook, pulley, rain cover and other parts. It includes lifting mechanismand cross traveling mechanism. The trolley is strictly designed according to the application and working environment.
Beam:
1, Main beam will have sandblast derusting and painted with zinc rich epoxy primer.
2, Main beam is cut by plasma numerical control cutting machine.
3, The butt weld of tension flange shall undergo ultrasonic or x-ray flaw detection as specified.
Outrigger:
1, Consist of rigid outrigger and flexible outrigger, all connection points are connected by high-tension bolt.
2, The ladder is used by operator to enter into cab or arrivin at winch.
3, When the span>30m, there needs a flexible leg to reduce the lateralthrust of the trolley to the rail when the girder lifts materials.
Interested in this product? Send us your inquiry, and we will offer you the best price!
Applications
The general uses of overhead cranes are as varied as the industries they serve. Common applications include:
Warehousing — To move large, heavy products to and from docks and loading areas
Assembly — To move products through the production process from start to finish
Transportation — To load railcars and trailers with finished cargo
Storage — To transport and organize bulky loads
Maintenance
Overhead cranes require routine maintenance to ensure a long life of safe, reliable lifting.
Checking the hoist's upper travel limit switch
Ensuring that the wire rope is not kinked or wearing
Listening for any unusual sound
Checking for exposed wiring
Observing the hook motion for consistent travel and responsiveness
Be sure to follow the OEM recommended inspection schedule; with proper maintenance, an overhead crane can last for over 50 years.
Any question or want a free quotation? Please contact our engineer:
Whatsapp: +86-13303801967
Email : sale@nucleoncranes.cn
Hot products