overhead crane
Nucleon provides various overhead cranes, single girder overhead crane, double girder overhead crane, Europe standard overhead crane, grab overhead crane, casting overhead crane, etc.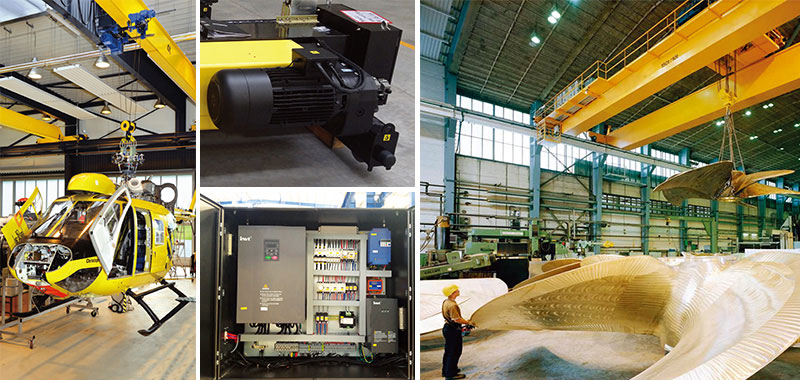 Overhead Bridge Crane Systems
- Overhead Cranes range in capacity from 1 to 600 ton offered.
- We offer top running and under running cranes
- Software is utilized to optimize girder selections, verify code compliance and minimize deflections.
- Liftsafe selects only the finest components that meet CMAA, FEM, ISO, and CSA standards.
- Crane and runway manufacturing are completed by qualified welders, meeting our most stringent of quality controls.
- Bridge crane panels are ESA inspected prior to shipping. Variable frequency drive systems are provided for smooth operation.
- Pendant and radio control systems available.
- Custom PLC systems available for semi-automated application
Overhead crane design options
Every overhead crane is custom designed and built to suit the customer's requirements.
Height of lift/max height: Any
Span: Any
Capacity (safe working load): From a few kg to over 100 tonnes
Gantry steel work: Raised runway beams or freestanding gantry steel work
Long travel operation: Manual, electric, pneumatic
Vertical hoisting operation: Manual, electric, pneumatic
Hoist cross travel operation: Manual, electric, pneumatic
Environments: Indoor, outdoor, marine, explosive
Delivery, installation, testing & servicing: Available
Interested in this product? Send us your inquiry, and we will offer you the best price!
Applications
The general uses of overhead cranes are as varied as the industries they serve. Common applications include:
Warehousing — To move large, heavy products to and from docks and loading areas
Assembly — To move products through the production process from start to finish
Transportation — To load railcars and trailers with finished cargo
Storage — To transport and organize bulky loads
Maintenance
Overhead cranes require routine maintenance to ensure a long life of safe, reliable lifting.
Checking the hoist's upper travel limit switch
Ensuring that the wire rope is not kinked or wearing
Listening for any unusual sound
Checking for exposed wiring
Observing the hook motion for consistent travel and responsiveness
Be sure to follow the OEM recommended inspection schedule; with proper maintenance, an overhead crane can last for over 50 years.
Any question or want a free quotation? Please contact our engineer:
Whatsapp: +86-13303801967
Email : sale@nucleoncranes.cn
Hot products